DiMaggio's PCL stint was one for the ages
Joltin' Joe made history with hometown Seals in first years as a pro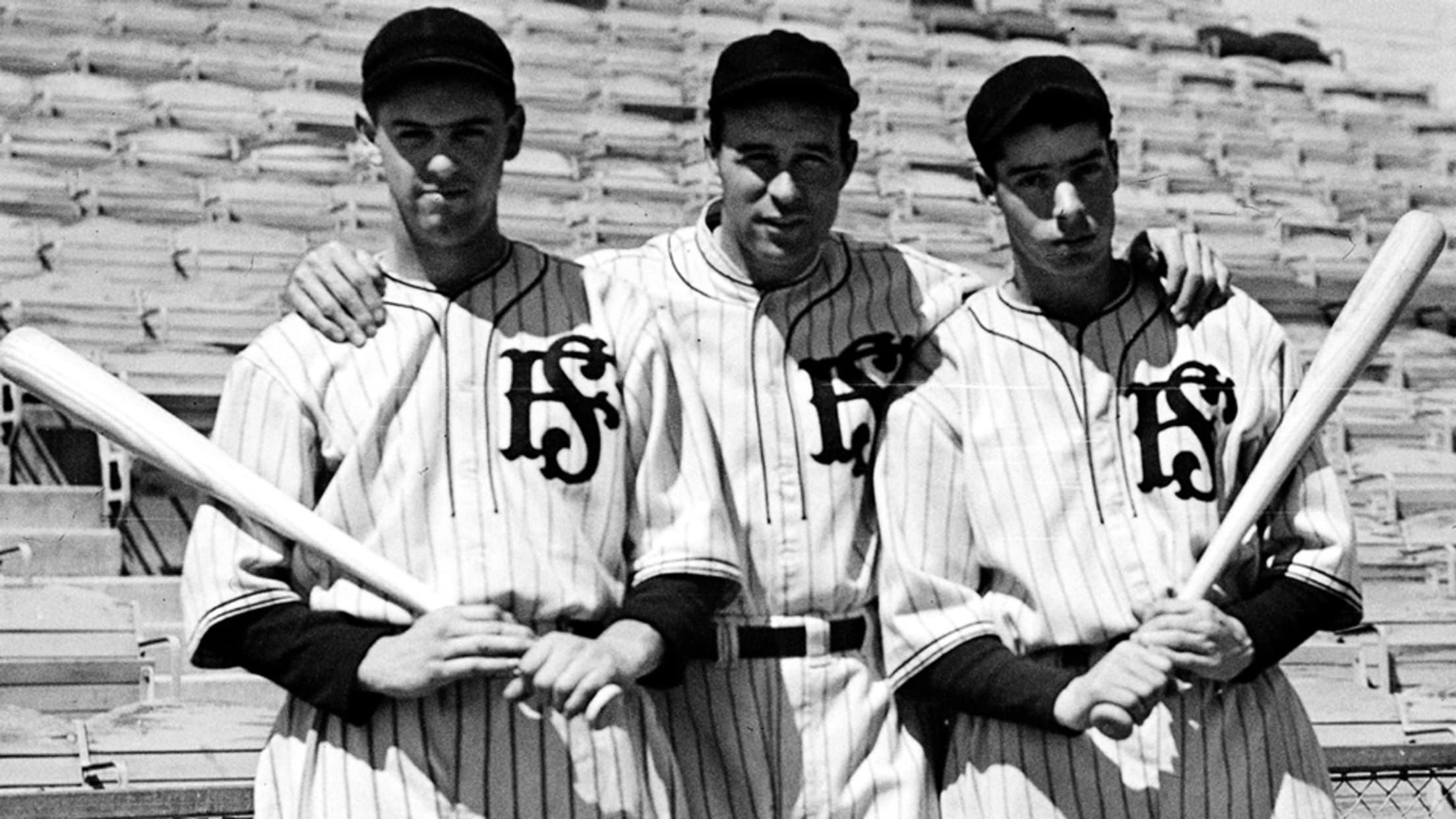 Joe DiMaggio (right) at age 20 with outfielder Joe Marty and San Francisco Seals manager Lefty O'Doul. (AP Images)
Joe DiMaggio's mythic status in American culture has been cemented in so many ways -- from his perhaps unsurpassable 56-game hitting streak in 1941 and his Hall of Fame-calibre play for 13 Major League seasons to his marriage to Marilyn Monroe, references in popular TV, song and film -- that
Joe DiMaggio's mythic status in American culture has been cemented in so many ways -- from his perhaps unsurpassable 56-game hitting streak in 1941 and his Hall of Fame-calibre play for 13 Major League seasons to his marriage to Marilyn Monroe, references in popular TV, song and film -- that it's easy to forget his origin story is also the stuff of myth. Before he was the Yankee Clipper, DiMaggio was a wunderkind playing for his hometown team in the Pacific Coast League.
His performance for San Francisco foreshadowed many aspects of his Major League career, including the hitting streak, but baseball history might look a lot different had things not fallen into place exactly as they did for DiMaggio with the Seals.
In the early 1930s, the PCL was a "Minor League," but not the way it is today. Only two PCL teams had affiliations with Major League clubs and some believed that the quality of play was comparable to that of the American and National leagues (it was launched only two years after the AL). The season was long -- teams sometimes played more than 200 games -- and it was common for players to spend part of a season with a big league club and part in the PCL. There were no Major League teams west of St. Louis, some 2,000 miles east of San Francisco.
"The PCL really was the Major Leagues out [west]," said Dennis Snelling, author of The Greatest Minor League, a History of the Pacific Coast League 1903-1957 and the forthcoming biography, Lefty O'Doul: Baseball's Forgotten Ambassador.
<jsp:include page="/milb/include/minoringinhistory.html">
"One of the big differences was owners of the teams in the PCL had a lot of money and they signed all their own talent: Ted Williams, DiMaggio, the Waner brothers [Lloyd and Paul] … they were all signed by PCL teams, not by Major League teams," Snelling said. "They kept them longer [than PCL teams today do] and they developed them. Quite often, like Joe, they were hometown heroes. Joe grew up a fan of the Seals, and he ended up playing for them."
In 1932, Vince DiMaggio, the sixth child of a family of nine, was a 19-year-old rookie outfielder for the Seals. San Francisco played in a ballpark that opened the previous season, but the product on the field wasn't much of a draw. The Seals finished seventh in the eight-team circuit.
Vince batted .270 with more than 20 extra-base hits, but the biggest contribution he made to the Seals -- which turned out to be a contribution to all of baseball -- came about at the end of the season when Augie Galan, San Francisco's regular shortstop, left to play in Hawaii. Vince's 17-year-old brother, Joe, had only started playing baseball to get out of working on his father's fishing boat as a kid, and tennis was the preferred sport for much of his childhood. By that point, though, Joe was playing shortstop for the semipro Sunset Produce team. Vince recruited him to fill in with the Seals for a couple games at the end of the season.
"Vince said that he had a younger brother who could fit the bill. So our manager [Ike Caveney] said, 'OK, bring him out tomorrow, bring him out,'" former Seals pitcher Lee Stine told David Cataneo in the book I Remember Joe DiMaggio. "So Joe came out and he played shortstop. He got a couple of hits. Hit one up against the left-field fence. Seals Stadium was like a big airport, you know. ... You could see he had the great natural ability, even then."
But three games were hardly enough to guarantee the youngster a contract, even though he had a double and a triple. Instead, he earned the opportunity to compete for a job at San Francisco's spring camp, where his advanced hitting got him onto the roster for the '33 season. At shortstop, he was something of a project. By some accounts, his throws to first base put everyone in the stands in danger, and during one exhibition game, he reportedly came close to pegging an especially noteworthy spectator: Seals owner Charlie Graham.
Largely because of his defense, DiMaggio didn't get into the lineup with any regularity until Caveney had him pinch-hit for an outfielder late in a game and sent him out to right field in the next half inning. His speed played there and his strong arm -- he made sidearm throws on the infield -- was a great asset.
The next year, after a series against the San Francisco Mission Reds, the Daily Democrat of Woodland, California, reported, "He cut loose with several throws from right field that traveled with the speed of a bullet."
But it was DiMaggio's bat that allowed him, at age 18 in his first pro season, to make history. He put together a 61-game hitting streak, shattering the previous PCL record of 49 games established by Jack Ness in 1915, the summer after DiMaggio was born. Sixty-one games remains the PCL record and is second in Minor League history behind Joe Wilhoit's 69-game streak in the Western League.
The longest hitting streaks in Minor League history
"The Seals were not very good that year, but he really put himself on the map," Snelling said. "By the end of the streak, The Sporting News was covering him pretty heavily, so he was getting some national recognition. He went from being unknown to being one of the most valuable properties, being only 18.
"Hitting streaks were a big deal back then. The newspapers all covered them and the drama would build. [During the streak], people could call in to special lines that the newspapers set up to find out how Joe did."
The extra attention from reporters wasn't exactly a dream come true for the teenager, whom the media dubbed "Deadpan" for his reticence and the even keel he appeared to keep throughout the streak.
"Few kids at 18," DiMaggio -- or more likely his ghostwriter -- wrote in Lucky to Be a Yankee, a memoir first published in 1946, "have the ability to mix with older people and my case was complicated by an inordinate shyness. At least I thought I was shy, but I got a rude awakening when I read [a newspaper story] about me, which said I was 'A gawky, awkward kid, all arms and legs like a colt, and inclined to be surly.'"
When the streak ended during a July 27 victory in which DiMaggio plated the winning run with a sacrifice fly, he admitted to the United Press feeling a tad relieved it was over, saying, "The going was getting too tough."
Although he fell eight games short of Wilhoit's record, DiMaggio had secured his reputation as one of the country's most exciting prospects. He batted .340 with 28 homers, 13 triples and 45 doubles in 187 games.
Rumors spread that the Seals were going to seek upwards of $50,000 -- nearly $1 million in today's terms -- and the Moorhead (Minnesota) Daily News credited the rookie with reviving the game.
"This performance ought to end talk that baseball is dying out and that young talent ain't what it used to be," the newspaper declared.
As an 18-year-old rookie, Joe DiMaggio ranked fourth in the Pacific Coast League with 259 hits. (AP Images)
The following June, however, DiMaggio suffered a knee injury that put his future in question. What exactly occurred is a mystery, as DiMaggio told a few versions of the story throughout his life, most of them including his leg giving out as he climbed into a bus or a taxi after a postgame trip to the movies in early June. Richard Ben Cramer, in Joe DiMaggio: The Hero's Life, revealed that it likely was that DiMaggio had hurt himself after a rambunctious night out with older brother Vince, who'd been cut from the Seals but was in town as a member of the Hollywood Stars.
Whatever happened, DiMaggio's second season was abbreviated. He played off and on in June and consistently in July, but, Cramer wrote, "In the first inning of a game on Aug. 10, DiMaggio came in on a liner to right and fell down in the field. When he batted in the first, he tried to run out a grounder, then limped back to the bench. When the inning ended, Joe stood up to take the field, but the knee buckled and he collapsed on the dugout floor. Scouts and fans watched DiMaggio struggling vainly to get up ... and from that moment, Joe's season was over."
Still, with the packed PCL schedule of that era, he got into 101 games and batted .341 with 36 extra-base hits. Knee concerns or no, rumors persisted throughout the year that a Major League club would snap up DiMaggio soon, with reports surfacing that he was bound for the Cubs, Giants or Yankees. The Yankees stayed aggressive, having Seals owner Charlie Graham send DiMaggio to a Los Angeles knee specialist.
According to Lucky to be a Yankee, "A series of eight treatments by [the Los Angeles specialist] just before the 1935 season restored my knee to normalcy."
The deal between San Francisco and the Yankees required DiMaggio to show he was healthy through the PCL campaign, after which he would belong to New York in exchange for $25,000 and four players. If proving the sturdiness of his knee was all DiMaggio needed to do to earn a one-way ticket to the Bronx, he far exceeded that benchmark. O'Doul, a former Yankee and veteran of 11 seasons in the Majors, was brought aboard as Seals manager to help prepare DiMaggio for The Show.
"Joe had [dropped out of high school], and he hadn't traveled beyond where he went playing baseball in the Coast League. Lefty had been in the Major Leagues, he'd been to Japan. He knew Babe Ruth," Snelling said. "Lefty helped him some with hitting, but Lefty felt he didn't give DiMaggio too much advice. It was as much about life in the big leagues and how to carry himself as a professional and what it was going to be like up there. That, and trying to get him to be nicer to reporters and things like that. Their relationship was almost older brother-younger brother. At first, it might have been closer to father-son, but they remained friends for the rest of their lives."
Under his new mentor, DiMaggio excelled. He earned MVP honors while leading San Francisco to the PCL championship and putting together arguably one of the greatest Minor League campaigns by any hitter.
"The young San Francisco Italian had a wonderful season for the Seals," the Los Angeles Times' Bob Ray wrote in his "Sports X-Ray" column of Nov. 17, 1935. "Not only did he bat .398, just one point behind the leader, [Mission Reds outfielder] Ox Eckhardt, but DiMaggio led in runs batted in with 154; hit the most triples, eighteen; scored the most runs, 173; ranked second to [Los Angeles Angels third baseman] Gene Lillard in homers with thirty-four; was next to [Angels first baseman] Jim Oglesby and [Portland Beavers outfielder] Moose Clabaugh for two-base hits with forty-eight, and stole twenty-four bases.
"Inasmuch as Joe also was one of the league's best outfielders and possesses a great arm, there wasn't much else that you could ask the kid to do. The Yanks are banking on DiMaggio to hold down center field for them next season."
Of course, DiMaggio did hold down a spot in the Bronx outfield the next season, and for many more. To those who look only at his big league career, it may seem like Joltin' Joe came out of nowhere, but those who followed the Seals never forgot that he showed his potential with his hometown club.
"I think people felt," Snelling said, "that once Joe went to the Yankees, he was San Francisco."
Further reading:
I Remember Joe DiMaggio by David Cataneo
The DiMaggios: Three brothers, Their Passion for Baseball, Their Pursuit of the American Dream by Tom Clavin
Joe DiMaggio: The Hero's Life by Richard Ben Cramer
Lucky to be a Yankee by Joe DiMaggio
DiMaggio: The Last American Knight by Joseph Durso
The Greatest Minor League, a History of the Pacific Coast League 1903-1957 by Dennis Snelling
Lefty O'Doul: Baseball's Forgotten Ambassador by Dennis Snelling (due out in May)
Josh Jackson is a contributor to MiLB.com. Follow and interact with him on Twitter, , @JoshJacksonMiLB.