Jumbo Shrimp Top Bulls 9-3
Rodriguez blasts 3rd homer in span of 3 games, Hess returns with perfect frame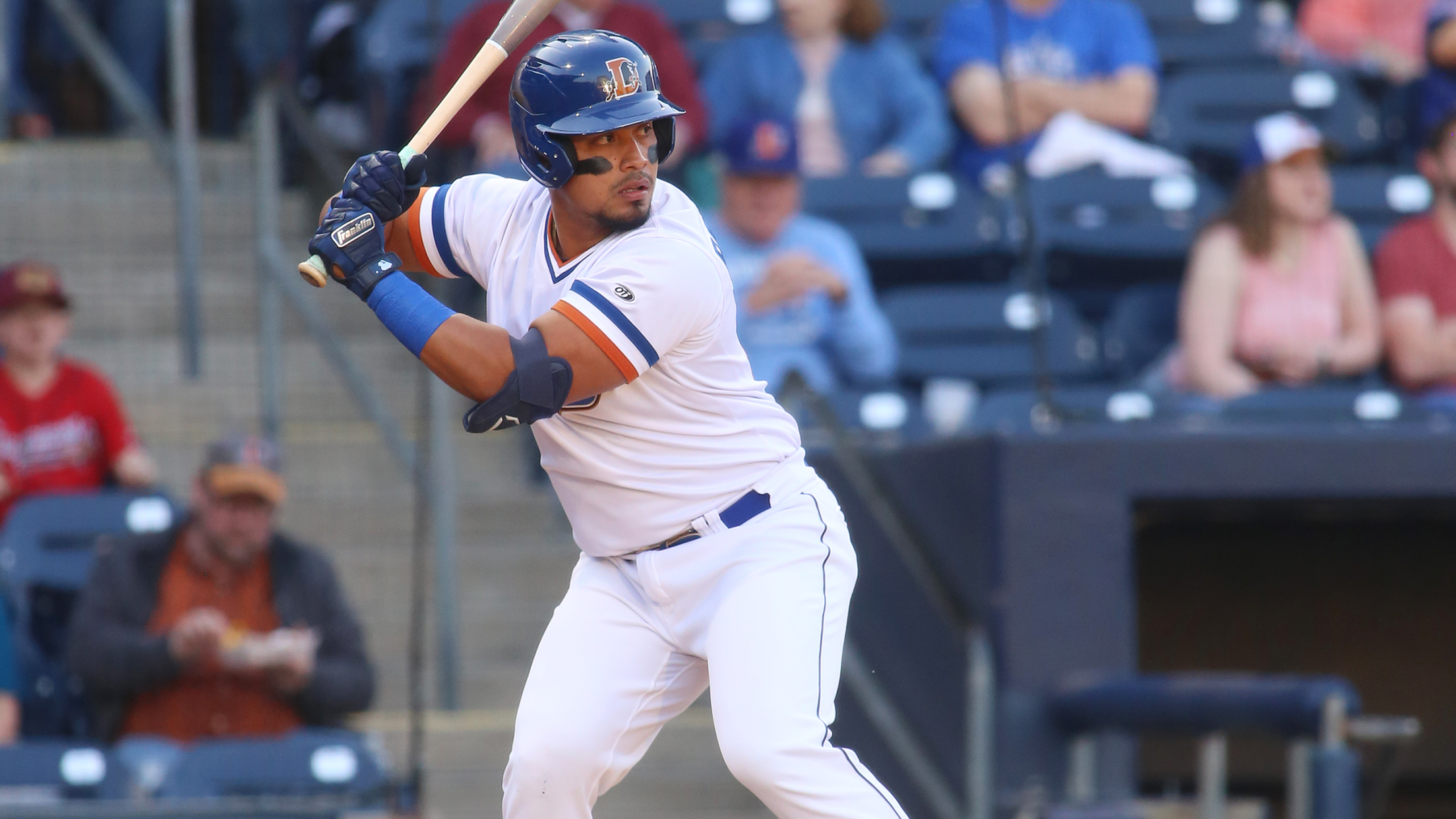 Bulls designated hitter David Rodriguez ripped a three-run homer, however Jumbo Shrimp catcher Lorenzo Quintana and right fielder J.J. Bleday both homered while combining for four hits and four runs driven in as part of Jacksonville's 9-3 victory over Durham on Tuesday evening at 121 Financial Ballpark. Quintana's solo shot
Bulls designated hitter David Rodriguez ripped a three-run homer, however Jumbo Shrimp catcher Lorenzo Quintana and right fielder J.J. Bleday both homered while combining for four hits and four runs driven in as part of Jacksonville's 9-3 victory over Durham on Tuesday evening at 121 Financial Ballpark.
Quintana's solo shot in the second put the Jumbo Shrimp ahead before Rodriguez went deep with his three-run blast in the fourth to give the Bulls a 3-1 advantage. Jacksonville, however, would plate eight unanswered runs, including a pair of three-run frames. Quintana would drive in his second run of the night in the seventh before coming across when Bleday when yard later in the inning.
Both Quintana (2-3, 3 R, HR, 2 RBI, BB) and Bleday (2-4, 2 R, HR, 2 RBI) were joined by 2B Bryson Brigman (2-5, 2 R), LF Brian Miller (2-4, RBI) and SS Erik Gonzalez (2-4, R, 2B) in recording multi-hit efforts for the Jumbo Shrimp. Rodriguez's homer was his third in a span of three games after bashing two longballs on June 16 versus Louisville. Bulls SS Miles Mastrobuoni failed to record a hit, snapping his nine-game hit streak.
Tampa Bay Rays pitcher Luis Patino (4.0 IP, 3 H, 2 R, 2 ER, 1 BB, 2 SO) did not factor in the final decisions after firing four frames with Durham as part of his MLB Rehab Assignment. Southpaw Josh Fleming (3.0 IP, 11 H, 7 R, 6 ER, 0 BB, 1 SO) suffered the defeat, while Jumbo Shrimp lefty Matthew Kent (6.0 IP, 4 H, 3 R, 3 ER, 0 BB, 2 SO) earned the win with a quality start.
Bulls reliever David Hess (1.0 IP, 1 SO) tossed a perfect eighth frame in his first appearance with Durham after being activated from the Injured List. Hess last October was diagnosed with a cancerous germ cell tumor in the center of his chest. He underwent treatment and in January was cleared to resume all activity, making several appearances with the FCL Rays earlier this month before being activated to the Bulls' roster.
The two teams are scheduled to continue their six-game series on Wednesday afternoon with a 12:05pm first pitch. RHP Easton McGee is slated to toe the rubber for the Bulls, while the Jumbo Shrimp's starter has not yet been announced.
Following their 12-game road trip, Durham returns home on Monday, July 4 to start a six-game series against the Memphis Redbirds, the Triple-A affiliate of the St. Louis Cardinals. First pitch of that contest is set for 6:35pm.
Tickets for that game and all remaining 2022 home dates can be purchased at DurhamBulls.com/tickets.