Prospects in the Rockies' player pool
Infielder Rodgers leads group of Colorado reinforcements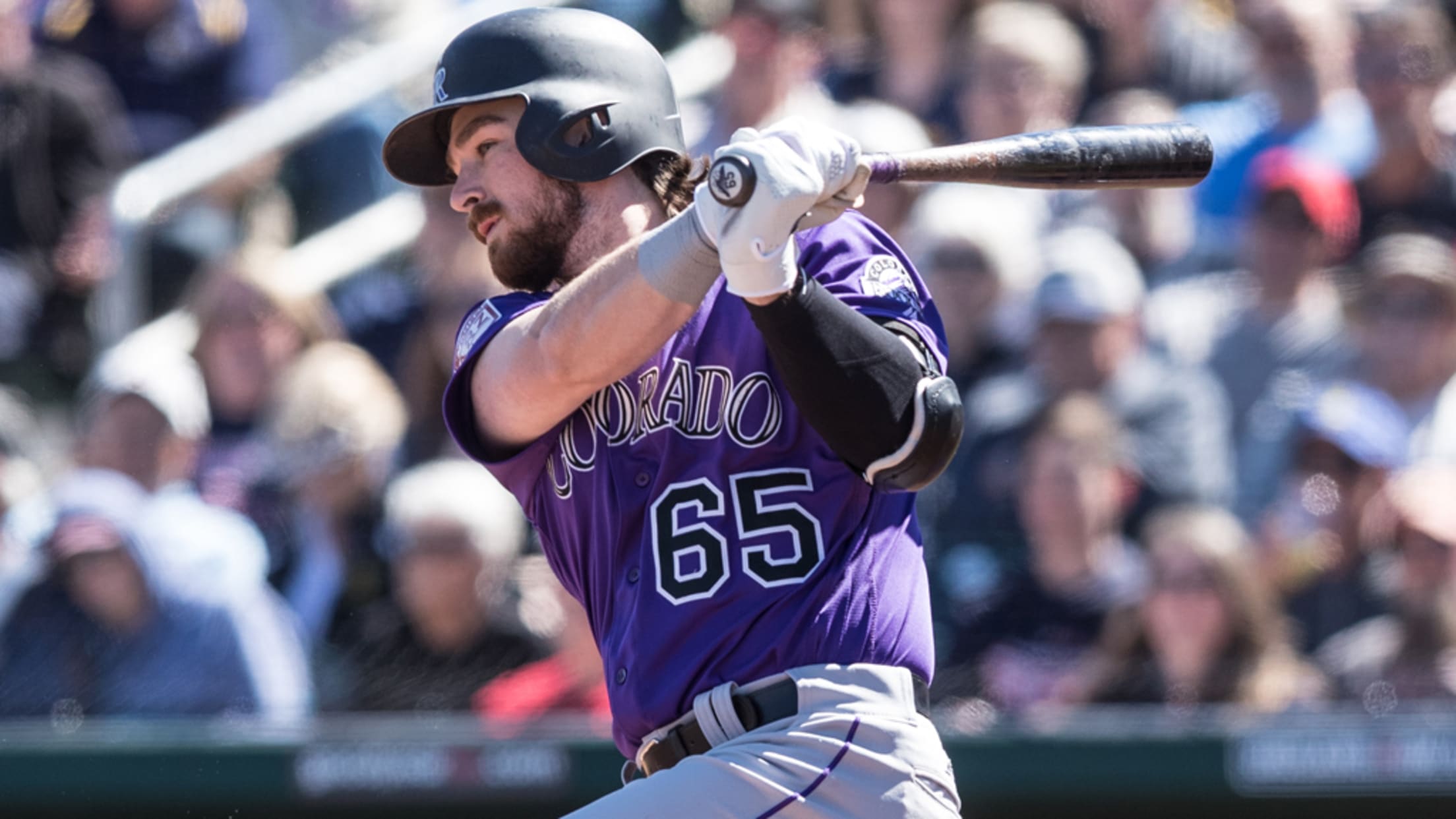 Brendan Rodgers played in 25 big league games before suffering a torn right labrum last year. (David Monseur/MiLB)
As part of the new rules for the 2020 Major League season, each of the 30 organizations will maintain a 60-man player pool for the duration of the campaign. Some members of the player pool will feature on the active Major League roster while others will work out at an
As part of the new rules for the 2020 Major League season, each of the 30 organizations will maintain a 60-man player pool for the duration of the campaign. Some members of the player pool will feature on the active Major League roster while others will work out at an alternate training site in the hopes of staying fresh for a potential callup or getting in much-needed development time.
The MiLB.com staff is rounding up the notable prospects in each organization's 60-man player pool and analyzing what the new system will mean for their 2020 seasons.
Had the 2017 season -- the Rockies' first of back-to-back playoff appearances for the first time in franchise history -- ended after 60 games, Colorado would've done something it's never done: won the National League West. After a disappointing 2019, the Rockies are hoping the shortened 2020 campaign opens the door to a return to postseason play in the Mile High City.
Colorado's 60-player pool isn't quite as prospect heavy as some organizations, but the promising up-and-comers it does include are in key positions. While the Rockies boast only one Top 100 prospect in Brendan Rodgers, he's included on their Summer Camp roster, as is Ryan Rolison, the franchise's top pitching prospect. Elsewhere, the Rockies are looking toward older prospects like outfielders Sam Hilliard and Yonathan Daza and intriguing bullpen options Ben Bowden and Ashton Goudeau.
Those who do not make Colorado's big league roster or taxi squad will work at the organization's alternate training site in Albuquerque, home of the Triple-A Isotopes.
Brendan Rodgers, IF: Rodgers played in 25 games for the Rockies last season and looked to be well on the way toward being a big league regular before he suffered a torn labrum in his throwing shoulder in June and underwent season-ending surgery. Now, the infielder is healthy and ready to compete again for regular work in Colorado's lineup. Rodgers was drafted as a shortstop and has seen time there as well as at a second and third. The Rockies are set on the left side of the infield with one of baseball's best duos in shortstop Trevor Story and third baseman Nolan Arenado. That leaves second base, where Rodgers played 16 big league games last year before his injury, a position that comes with a lot of competition with Ryan McMahon and Garrett Hampson also trying to nab a starting spot. Rodgers is Colorado's only Top 100 prospect (at No. 29 overall) and has posted a .296/.352/.503 line in five pro seasons since coming to the Rockies out of a Florida high school with the third overall pick in 2015.
Ryan Rolison, LHP: Colorado's second-ranked prospect was lights out in his pro debut two seasons ago, posting a 1.86 ERA in nine appearances with Rookie-level Grand Junction. Rolison began last year in even better form, with a 0.61 mark to go along with a 2-1 record in three starts to open the campaign with Class A Asheville. But first professional bumps followed a promotion to Class A Advanced Lancaster, where the southpaw put up a 4.87 ERA in 22 California League outings. Still, the Ole Miss product looks like he'll be the next quick climber to bolster Colorado's homegrown rotation. Rolison works with a low-90s fastball he commands well and a plus curveball to go along with a changeup and slider. While unlikely to reach the big leagues this year, a strong showing this summer could put Rolison on a fast track for 2021 consideration.
Sam Hilliard, OF: Hilliard turned lots of heads with his brilliant 27-game cameo at the big league level that concluded the 2019 season. The Wichita State product batted .273/.356/.649 with seven homers and 13 RBIs from his Aug. 27 Rockies debut on, building on a season that saw him hit .262/.335/.558 with 35 homers and 101 driven in over 126 games with Triple-A Albuquerque. If the 2019 Hilliard is what Rockies fans can expect going forward, there's reason to be excited, especially with the 26-year-old one of only five outfielders listed on the Rockies' initial group (although Hampson sees considerable OF time).
Ben Bowden, LHP: Reliever Bowden was flat-out dominant for Double-A Hartford last year, posting a 1.05 ERA and 20 saves in 26 appearances to earn a selection to the Futures Game. Though he struggled in 22 games after a promotion to Albuquerque (1-3 record, 5.88 ERA), he'll be in the mix for a bullpen slot with the Rockies in 2020. A 2016 second-round pick out of Vanderbilt, the big lefty can reach 97 mph with his heater, utilizes a plus changeup and is working on improving an average slider to give himself a steady third offering. The Rockies need pitching depth more than any other organization, and if key pieces falter this year Bowden gives Colorado an option with late-inning experience.
Yonathan Daza, OF: Like Hilliard, Daza put up strong numbers with Albuquerque a year ago and rode that momentum to his first Major League stint. Unlike Hillard, Daza followed with less than impressive stats at the big league level, batting just .206/.257/.237. Still, the Maracay, Venezuela, native boasts a .318/.359/.438 career line in the Minors and provides a stellar defensive option for Colorado on the grass. Daza is an efficient and speedy outfielder who combines a 55-grade run tool with a 65 grade in the field and a 70 arm. The Rockies moved Charlie Blackmon to right field last year and played six different players in center, including veteran Ian Desmond, who has opted out of the 2020 Major League season. That could open the door for Daza.
Tyler Nevin, IF: After a strong 2017 season with Asheville and brilliant 2018 with Lancaster, Nevin scuffled a bit last year in his first taste of Double-A. Over 130 games with Hartford, the corner infielder batted .251/.345/.399 for a .744 OPS, the lowest mark of any season in his five-year career. Still, the Rockies added him to their 40-man roster and believe the son of former big leaguer Phil will continue to adjust and progress at the plate as he climbs the upper Minors. In addition to playing his natural position of third base last year, Nevin saw considerable time across the diamond at first -- where the Rockies have struggled to find stability since Todd Helton's retirement -- and also got work in the corner outfield spots.
Other notables
Right-handed pitcher Ryan Castellani was one of three Rockies players to have reportedly tested positive for COVID-19 in late June, along with lefty pitcher Phillip Diehl and big league outfielder Blackmon. Castellani has struggled with injuries and inconsistency the past two seasons but pitched well in the Arizona Fall League last year. A 2018 MiLB.com Organization All-Star, Josh Fuentes has some positional versatility at third and first and made his big league debut last year. Right-handed pitcher Ashton Goudeau is a fascinating case, a former 27th-round pick of the Royals who also spent time in the Mariners organization and signed with the Rockies as a Minor League free agent last year. After going 3-3 with a 2.07 ERA in 16 starts with Hartford, Goudeau went to the Arizona Fall League and struck out 18 batters while allowing just four hits and zero runs in 13 innings as a reliever for Salt River.
Tyler Maun is a reporter for MiLB.com and co-host of "The Show Before The Show" podcast. You can find him on Twitter @tylermaun.