Johnson City Doughboys announce 2023 coaching staff
Manager Kevin Mahoney returns Ryan Mossman, Wayne Riser and Jacqui Reynolds to lead team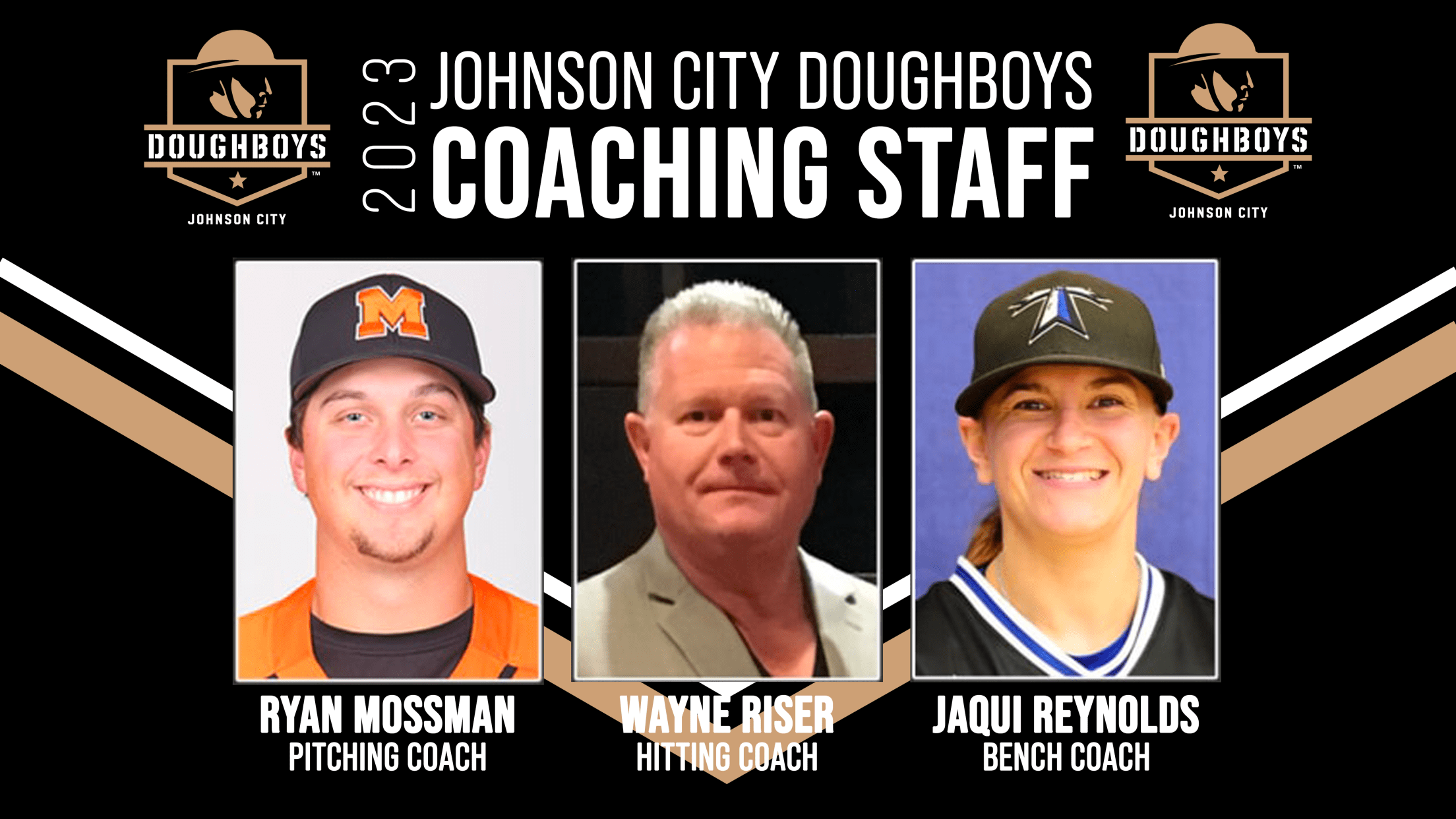 JOHNSON CITY, Tenn. - The Johnson City Doughboys have announced their coaching staff for the Appalachian League's 2023 season. The Doughboys will be led by pitching coach Ryan Mossman, hitting coach Wayne Riser and bench coach Jacqui Reynolds. "I am thrilled to have the entire 2022 staff returning for the
JOHNSON CITY, Tenn. - The Johnson City Doughboys have announced their coaching staff for the Appalachian League's 2023 season. The Doughboys will be led by pitching coach Ryan Mossman, hitting coach Wayne Riser and bench coach Jacqui Reynolds.
"I am thrilled to have the entire 2022 staff returning for the 2023 season," said Doughboys manager Kevin Mahoney. "After coming back from a slow start and having a successful season, these coaches worked hard to continuously put our players in a position to have success and grow as individuals. I am very proud to be a part of this staff again and fortunate to be around such a great GM, baseball coaches and people for another summer."
Mossman enters TVA Credit Union Ballpark coming off his fourth season as a coach at Milligan University. Mossman is responsible for the pitching staff and recruiting for the program. In his first full season with Milligan, the program had the most wins and highest conference finish in a decade.
"Mossman is a fantastic coach," stated Mahoney. "His knowledge and ability to coach and teach was so much fun to be around. I learned a ton from Moss last year and am lucky to have another year to work with him. The players, and staff, are lucky to have him back for another season."
Riser has been a head coach for 29 seasons and amassed more than 650 NCAA victories at three different levels of collegiate baseball. Riser began his coaching career at Shepherd University, where he served as the head coach for 22 years, winning 512 games and ranking as the all-time winningest coach in any sport in school history. He was inducted as a 2008 member of the Shepherd Athletic Hall of Fame. In all, Riser led five teams to NCAA Tournament play and saw 16 teams win 20 or more games, and 30 or more three times. His teams won 16 WVIAC Northern Division titles, and he was recognized as the WVIAC Coach of the Year four times.
"I cannot wait to work with Riser again this summer," explained Mahoney. "Riser comes to the ballpark ready to give 100 percent of his effort for the players each and every day and brings a ton of knowledge, passion and energy. His experience in the game of baseball and his passion for helping others is an inspiration."
Reynolds recently wrapped up her third season as an assistant coach at the University of Massachusetts Boston. At UMB, she worked with the team's hitters and outfielders. After working at the A's Baseball Center in Woburn, Mass., as an instructor for several years, Reynolds got her first chance to coach baseball in 2017 as an assistant coach with the A's 13 and under team. Over the years, she has worked with several A's teams, including serving as the 14 and under co-head coach in 2019 and the head roving scout coach for the 17 and under team in 2020.
"Jacqui did a great job both on and off the field last season and was an integral part in making sure each day was a successful day for the coaches and the staff," said Mahoney. "I am looking forward to watching Jacqui continue developing players."
"I am very excited to have our entire coaching staff returning for the 2023 season," said Johnson City general manager Patrick Ennis. "With the progress we made last year and the experience of this staff, I believe we have the winning recipe for bringing the Appy League Championship home to Johnson City! Rally the Troops!"
The Doughboys begin their season June 6, 2023, inside TVA Credit Union Ballpark against the Greeneville Flyboys.
ABOUT THE JOHNSON CITY DOUGHBOYS
The Johnson City Doughboys play their home games at TVA Credit Union Ballpark. The Johnson City Doughboys is owned and operated by Boyd Sports, LLC. Boyd Sports owns and operates several teams in the East Tennessee region and is committed to the growth of baseball and providing affordable, fun and family entertainment.