Doughboys introduce Rocky the Bat Dog for the 2023 season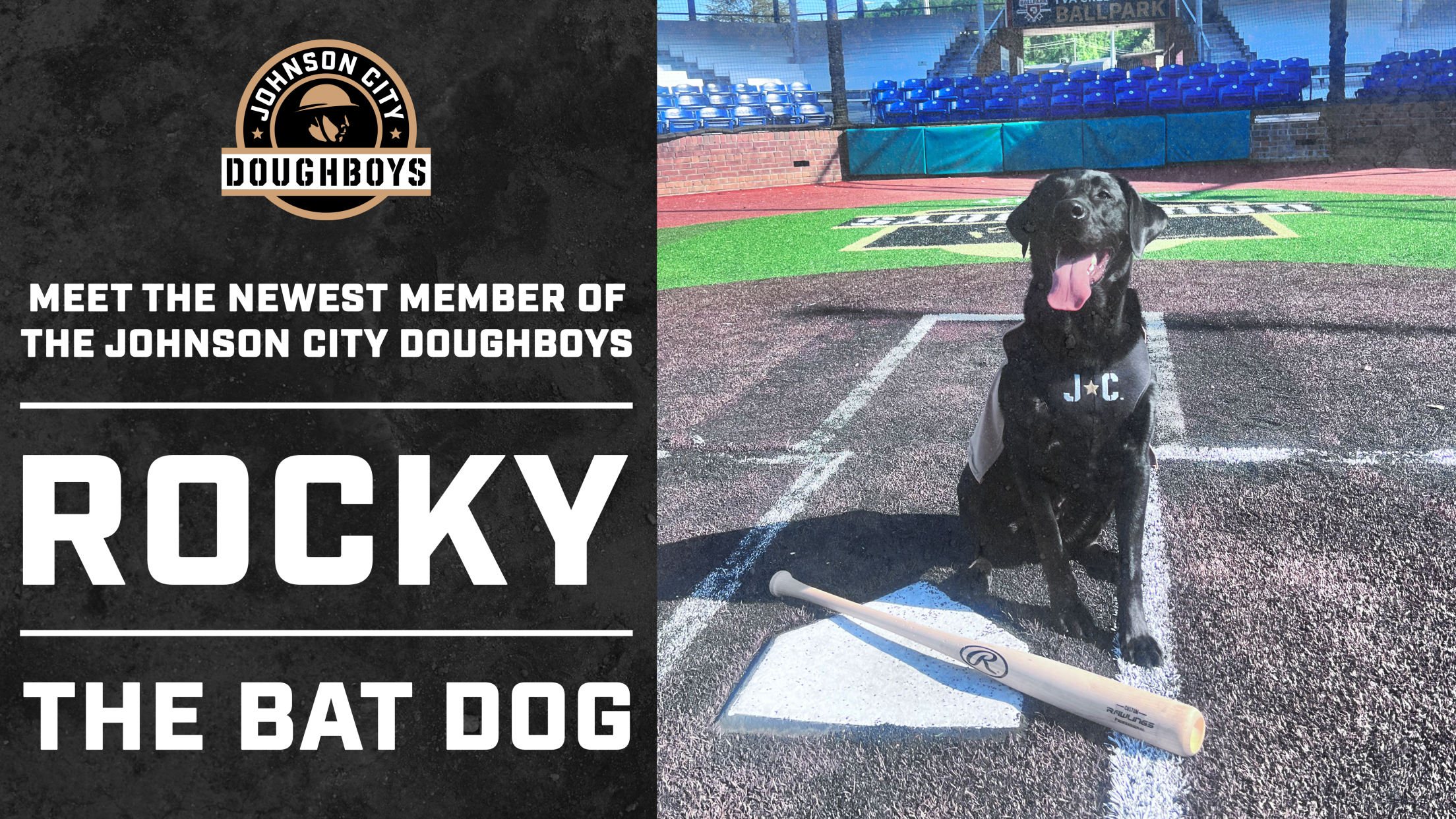 JOHNSON CITY, Tenn. - The Johnson City Doughboys are excited to introduce Rocky the Bat Dog for the Appalachian League's 2023 season. "Rocky is ready to Rally the Troops in 2023," exclaimed Johnson City Doughboys general manager Patrick Ennis. "We are very eager to introduce Rocky as the official bat
JOHNSON CITY, Tenn. - The Johnson City Doughboys are excited to introduce Rocky the Bat Dog for the Appalachian League's 2023 season.
"Rocky is ready to Rally the Troops in 2023," exclaimed Johnson City Doughboys general manager Patrick Ennis. "We are very eager to introduce Rocky as the official bat dog for the 2023 season. His eagerness to retrieve the Doughboys' bats this summer will be a welcome addition to TVA Credit Union Ballpark."
Rocky is a two-year-old black lab who is well known for his prowess in dock diving competitions having competed across the United States in Louisiana, Michigan and Tennessee. When not competing, Rocky's favorite hobbies include hiking and camping across East Tennessee.
"We are over the moon excited," said Rocky's owner Meg Hackett. "This has been a dream of ours for quite a long time. We used to sing 'Take Me Out to the Ball Game' to him when he was a puppy. We are a big-time baseball family, so it is hard to believe it's really happening, and alongside our home team which makes it so much better. Go Doughboys!"
When not retrieving the Doughboys bats back to the dugout, fans can find Rocky competing at the Meet the Mountains Festival here in Johnson City and at K9 Sports in Morristown. Stay tuned for all things Rocky by following him on Instagram @Roam.With.Rocky.
The Doughboys begin their season June 6, 2023, inside TVA Credit Union Ballpark against the Greeneville Flyboys.
ABOUT THE JOHNSON CITY DOUGHBOYS
The Johnson City Doughboys play their home games at TVA Credit Union Ballpark. The Johnson City Doughboys is owned and operated by Boyd Sports, LLC. Boyd Sports owns and operates several teams in the East Tennessee region and is committed to the growth of baseball and providing affordable and fun family entertainment.