Three Doughboys and coaching staff named to 2022 All-Star Game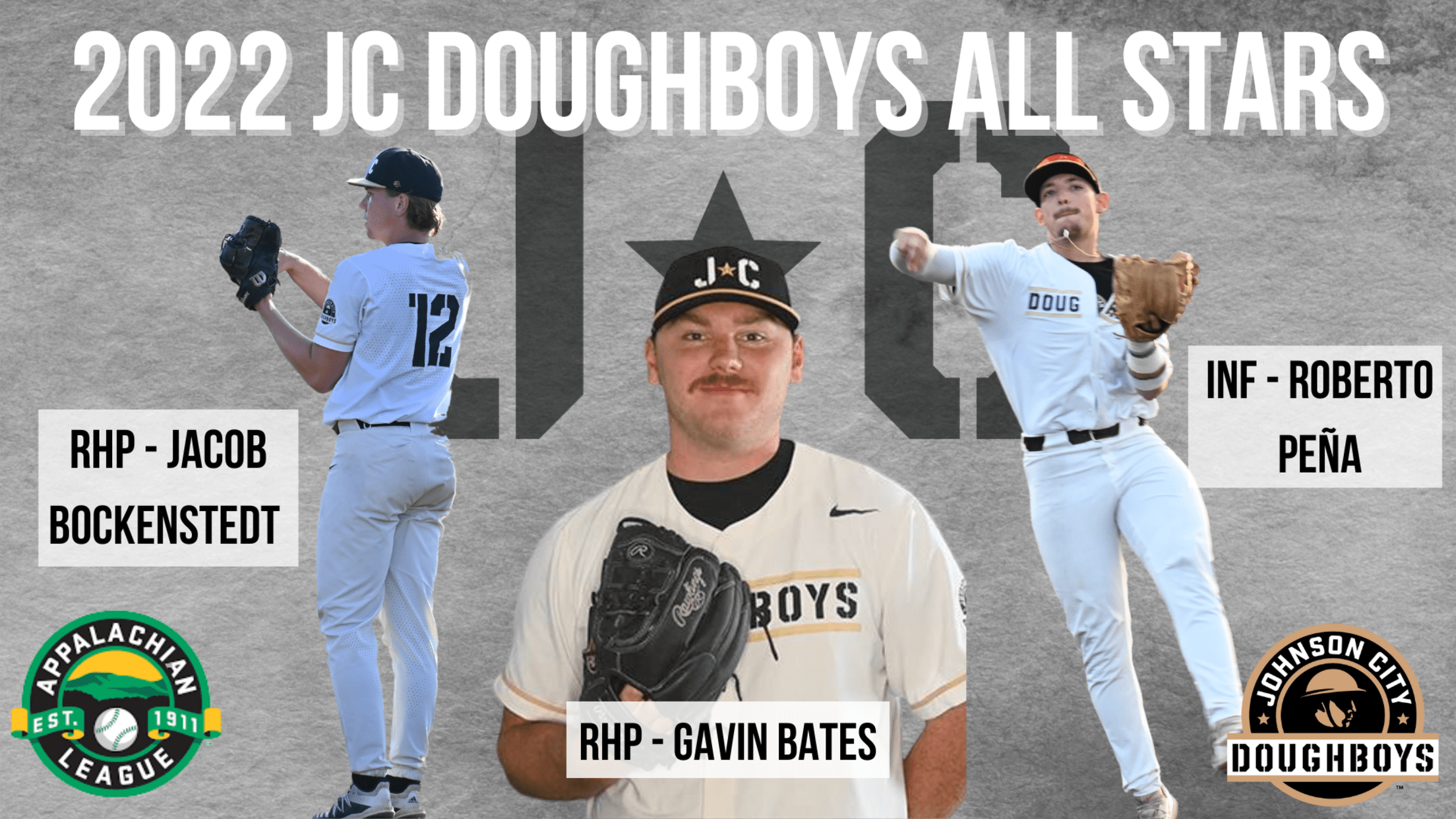 JOHNSON CITY, Tenn. - The Appalachian League announced that RHP Gavin Bates, RHP Jacob Bockenstedt and 3B Roberto Peña have been named to the West Division All-Star team. The All-Star Game, taking place Tuesday in Burlington, will have players from all 10 Appalachian League teams. The three selections will match
JOHNSON CITY, Tenn. - The Appalachian League announced that RHP Gavin Bates, RHP Jacob Bockenstedt and 3B Roberto Peña have been named to the West Division All-Star team.
The All-Star Game, taking place Tuesday in Burlington, will have players from all 10 Appalachian League teams.
The three selections will match last season's total from the Doughboys.
Southern Illinois-Edwardsville's Bockenstedt gets the All-Star nod. In eight starts for the Doughboys, he has compiled a 2-2 record, with a 3.57 ERA and is tied for the league lead with 47 strikeouts, leading the league-leading Doughboys pitching staff in strikeouts.
"Bockenstedt is the guy, in our opinion he's our ace," manager Kevin Mahoney said.
The other member of the Doughboys' pitching staff getting All-Star accolades is Bates.
Iona's Bates has struck out 20 hitters, while only walking four batters in 8.2 innings of work for the Doughboys. His fastball is one of the hardest in the league, running nearly 95 miles per hour. Opponents are hitting just .156 against Bates, going 5-for-37 against him.
From Mahoney, "Bates has done a really nice job for the Doughboys this year, he's been able to shut the door no matter what for us."
Rounding out the Doughboys' All-Star accolades is Peña.
The newly committed Stetson Hatter in Peña has a .325 average in 77 at-bats over 24 games with the Doughboys. Peña is fourth on the team with 19 RBI, and second in the league with seven home runs. His 53 total bases lead the team and are second in the league for players with 100 or fewer plate appearances.
"He's a no-doubter in my opinion, he's near the top of the league in OPS and second in homers in 40 fewer at-bats," Mahoney said when asked about Peña.
As well as the three players, the Johnson City coaching staff will be leading the West Division team in the game Tuesday. They will look to keep the West Division on top after winning the first ever Appalachian League All-Star Game in Pulaski last season on a tiebreaking home run derby.
The game will be played July 26, hosted by the Sock Puppets at Burlington Athletic Stadium.