Feltner awarded Appalachian League Player of the Year
Ridge Runners first baseman Jackson Feltner hit .347 with eight home runs and 38 RBI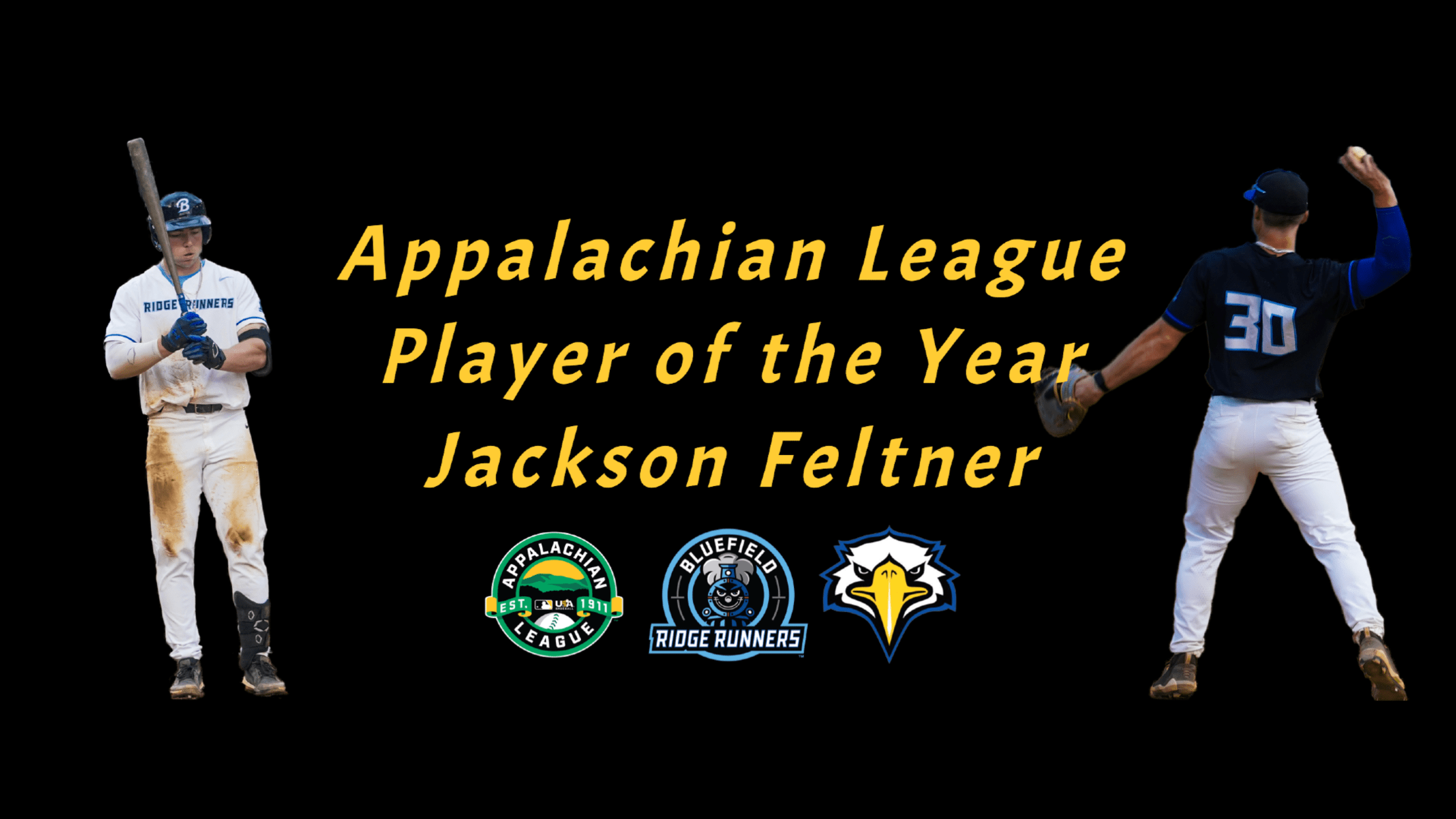 CHAPEL HILL, N.C. — The Appalachian League announced that Bluefield's Jackson Feltner (Morehead State) was named the Player of the Year. Feltner hit .347 with eight home runs and 38 RBI in 50 games played for Bluefield this season. The Ridge Runners first baseman went 67-for-193 with nine doubles, 44
CHAPEL HILL, N.C. — The Appalachian League announced that Bluefield's Jackson Feltner (Morehead State) was named the Player of the Year.
Feltner hit .347 with eight home runs and 38 RBI in 50 games played for Bluefield this season. The Ridge Runners first baseman went 67-for-193 with nine doubles, 44 runs scored, 20 walks and four stolen bases. He finished the season with a .414 OBP, a .518 SLG and a .932 OPS. Feltner led the Appalachian League with 67 hits and 100 total bases. His 67 hits are the most since the Appy League became a summer collegiate league in 2021. Feltner also finished third in RBI, fifth in AVG and home runs, and tied for fifth in runs scored.
"I am very excited for Jackson to be named Player of the Year," said Ridge Runners manager Mike Weatherford. "Jackson is one of those talents that is a privilege to manage. He always brings an outstanding attitude and work ethic to the everyday routines."
Feltner was the Appy League Player of the Week of June 13-19 and the Player of the Month of June. He started at first base for the East Division in the All-Star Game and went 1-for-4. Feltner finished the season with 21 multi-hit games and 11 multi-RBI games. He also had two four-hit games and a five-hit game. On June 13-14 at Princeton, Feltner had back-to-back games with a home run and three RBI. He hit a home run in three straight games against Bristol from July 2-4. On June 22 at Elizabethton, Feltner finished 5-for-6 with a solo home run and four runs. He reached base six times on July 2 at Bristol, going 4-for-5 with a home run, two doubles, two RBI, five runs and two walks. Feltner went 4-for-6 with two RBI and three runs on July 22 at Danville.
"This is a testament to his abilities on the field, but also as one of our leaders in the clubhouse," Weatherford added. "Jackson consistently brings out the best in his teammates and is the type of individual that is simply a pleasure to be associated with. I am very proud of this young man and what he accomplished for himself, his teammates and the Bluefield Ridge Runners organization."
The 20-year-old from Louisa, Ky., is heading into his junior year at Morehead State University. Feltner hit .393 with 16 home runs and 51 RBI in 54 games for the Eagles last spring. Feltner has been named First-Team All-OVC first baseman both seasons at school. He was the 2021 OVC Freshman of the Year and a Freshman All-American by Collegiate Baseball.
All postseason awards are voted on by the league's managers.