Burlington Sock Puppets named Appalachian League Organization of the Year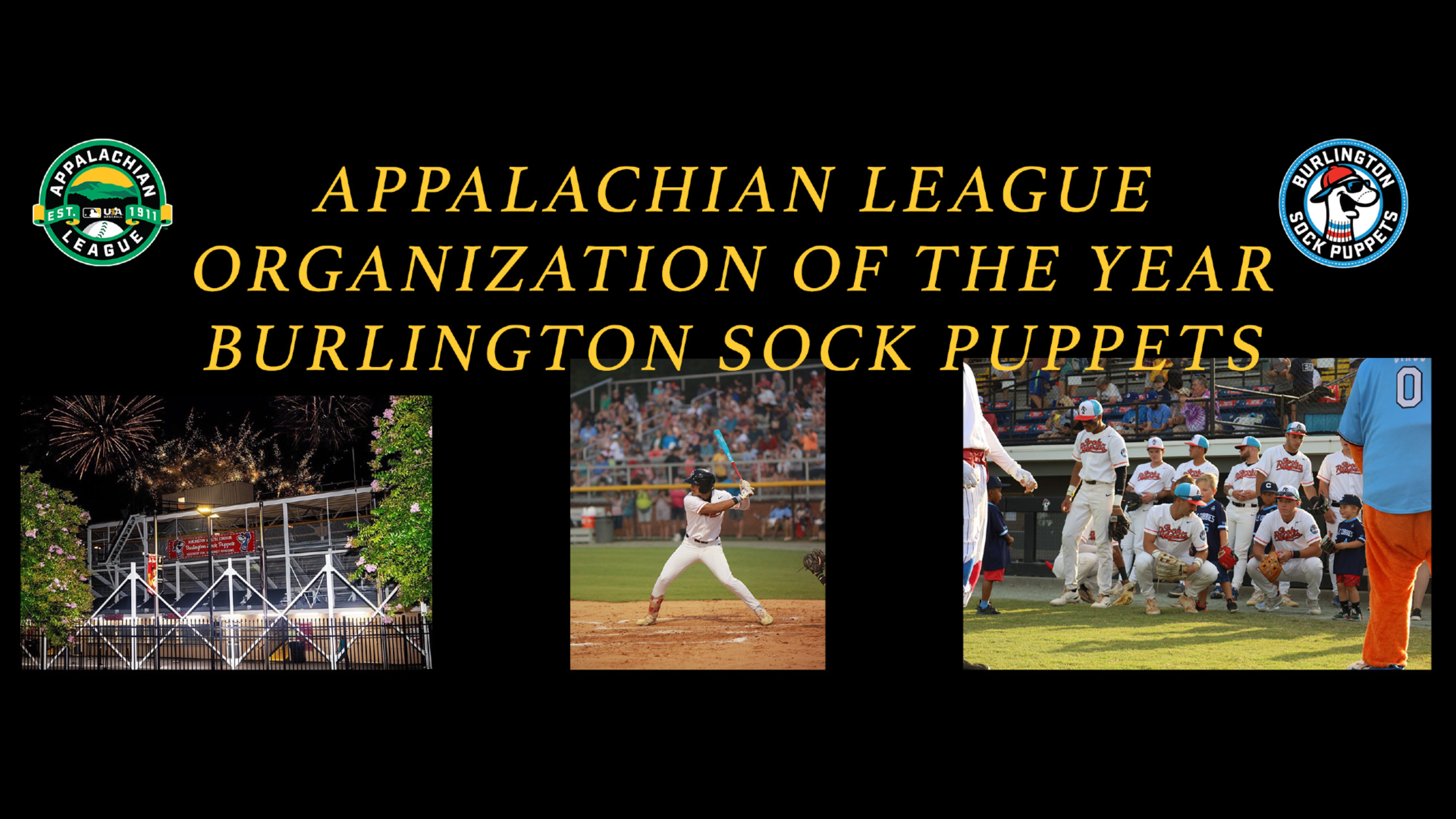 CHAPEL HILL, N.C. -- The Appalachian League announced that the Burlington Sock Puppets are the 2022 Organization of the Year. This award is given to the club that exemplifies the standards of the complete baseball franchise, based upon franchise stability, contributions to the league stability, contributions to baseball in the
CHAPEL HILL, N.C. -- The Appalachian League announced that the Burlington Sock Puppets are the 2022 Organization of the Year. This award is given to the club that exemplifies the standards of the complete baseball franchise, based upon franchise stability, contributions to the league stability, contributions to baseball in the community and promotion of the baseball industry.
Since the reformation of the Appalachian League from a Rookie Level affiliated league to an MLB partnered summer collegiate league in 2021, the Sock Puppets have been the only team to finish in the top three in attendance and increase attendance each year. In 2022, the Sock Puppets eclipsed 50,000 total fans, a feat the club had not accomplished in over a decade.
"When Brittany and Ryan Keur bought the club in 2020 and put together this staff, we knew we had a unique opportunity to really create something special here in Burlington that featured more than just high-level baseball," said Sock Puppets general manager Anderson Rathbun. "Being recognized in this way really shows that from ownership to the full-time staff, to our players, interns, grounds crew and everyone else that worked with us this summer, we did things the right way, and, to me, it's been a lot of fun being a part of it."
This past year saw the Burlington Sock Puppets finish as the East Division Champions while setting the highest win total of a team since the Appy League changed over. The Sock Puppets hosted the first ever two-night All-Star event in league history that was broadcasted nationally on MLB Network, the first-ever 'Bros v. Pros' Exhibition event featuring some of the largest baseball content creators on the internet and broke the franchise record for the highest attended game at Burlington Athletic Stadium on July 1, when they welcomed 4,217 fans.
Off the field, the Sock Puppets strive to be a leading brand to grow the game of baseball and the notoriety of the league. Across all social media, so far in 2022, the Burlington club has been able to garner tens of millions of impressions by not only promoting the entertaining side of sports but also through many unique partnerships. Partnerships that include in other sports such as the PGA with golfer Alex Smalley and NASCAR with the Kaulig Racing cup team.
Outside the season, the Sock Puppets take pride in being the host site of two North Carolina High School Athletic Association State Championships, a free and safe Halloween trick-or-treating event and other community-oriented experiences totaling more than 125 events.