Fondtain, Herrmann receive Appalachian League weekly honors
TJ Fondtain and Andrew Herrmann were named Appy League Player and Pitcher of the Week, respectively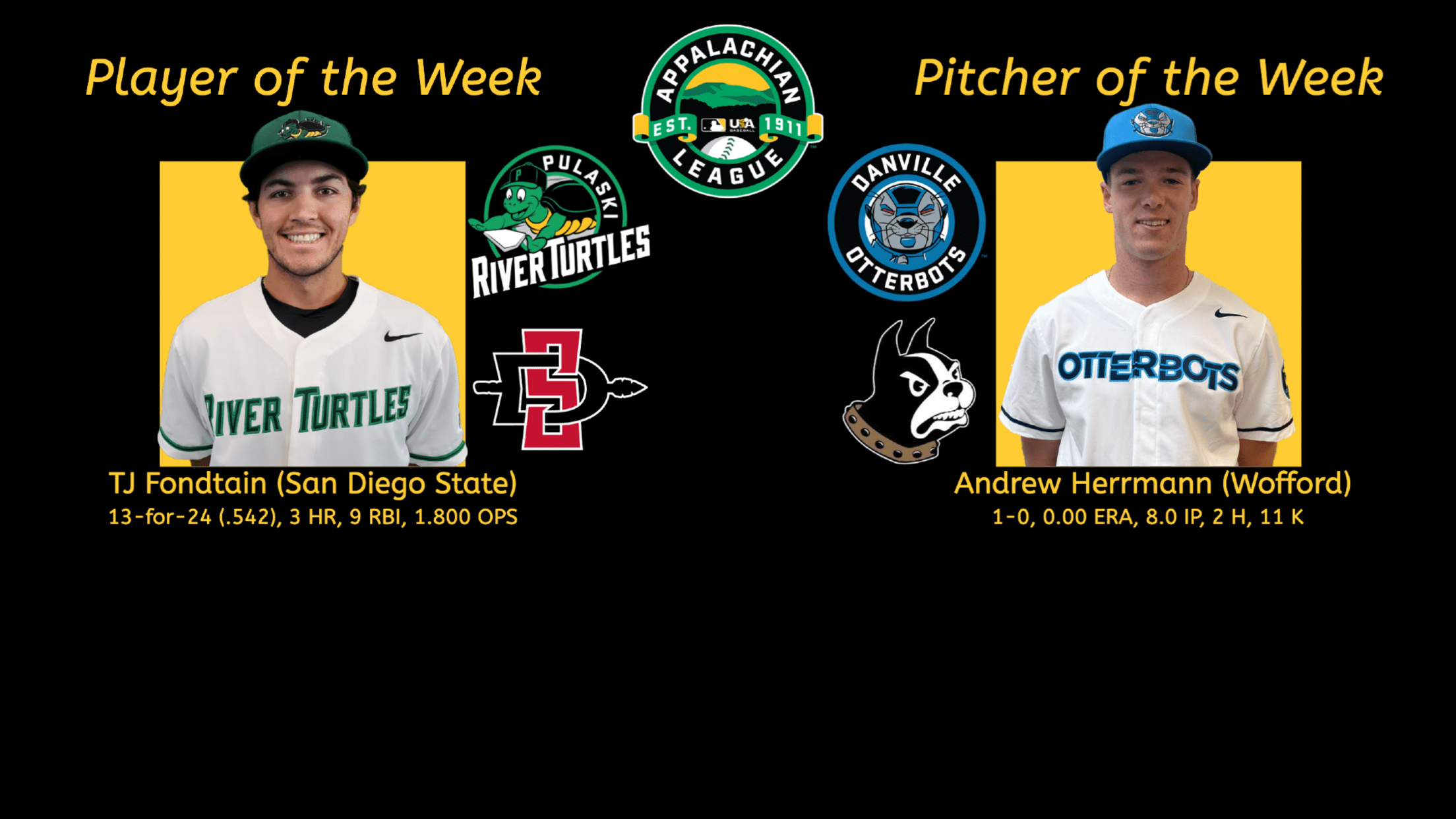 CHAPEL HILL, N.C. -- The Appalachian League announced that Pulaski's TJ Fondtain (San Diego State) and Danville's Andrew Herrmann (Wofford) were named the Player and Pitcher of the Week of July 18-24, respectively. Fondtain hit .542 (13-for-24) with three home runs and nine RBI in six games played for the
CHAPEL HILL, N.C. -- The Appalachian League announced that Pulaski's TJ Fondtain (San Diego State) and Danville's Andrew Herrmann (Wofford) were named the Player and Pitcher of the Week of July 18-24, respectively.
Fondtain hit .542 (13-for-24) with three home runs and nine RBI in six games played for the River Turtles last week. Fondtain hit four doubles, one triple, scored 11 runs and walked four times. He finished the week with a .633 OBP, a 1.167 SLG and a 1.800 OPS. He led the Appalachian League in hits, SLG and OPS, and tied for first in home runs and runs scored for the week. He also finished second in AVG, third in OBP and tied for third in doubles. Fondtain had multiple hits in all six games played, and he had at least one RBI and one extra-base hit in five games. Fondtain finished the week by going 5-for-9 with four extra-base hits and five RBI in Pulaski's doubleheader split with Kingsport on Sunday. In Game 2, he went 3-for-5 with two home runs, one double, three RBI and two runs scored.
Overall this summer, Fondtain is hitting .368 with four home runs and 24 RBI in 33 games. On the mound, Fondtain is 2-3 with a 2.51 ERA and 34 strikeouts to just four walks in six appearances (five starts). He was selected to represent the East as a pitcher in the All-Star Game. The 21-year-old two-way player from Clovis, Calif., just finished his sophomore season at San Diego State University. This past spring, Fondtain hit .339 with two home runs and 11 RBI in 28 games played (25 starts), and he also had a 4.58 ERA in 14 appearances (13 starts) on the mound for the Aztecs.
Herrmann made one start for the Otterbots last week, he went 1-0 with a 0.00 ERA. On Saturday in Princeton, Herrmann allowed just two hits over 8.0 shutout innings. The Otterbots left-handed pitcher struck out a season-high 11 and walked one. Herrmann retired the first 12 hitters he faced Saturday and finished his outing by striking out the side in the eighth inning. Herrmann also picked off a runner at second base in the fifth inning. His .077 batting average against was the best in the Appalachian League last week, and he pitched the most innings without allowing a run. Herrmann also finished second in WHIP (0.38) and tied for fourth in strikeouts (11).
Overall this summer, Herrmann is 2-2 with a 2.97 ERA in 12 appearances (four starts). Herrmann has struck out 46 in 33.1 innings pitched. In July, Herrmann is 1-1 with a 2.05 ERA in five appearances (four starts). His 30 strikeouts are the second most in the Appy League. The 20-year-old left-hander from Kennesaw, Ga., just finished his freshman season at Wofford College. Herrmann appeared in one game for the Terriers this past spring.