Danville Otterbots Announce 2023 Roster
Four returners, four local products, 20 colleges from 15 conferences represented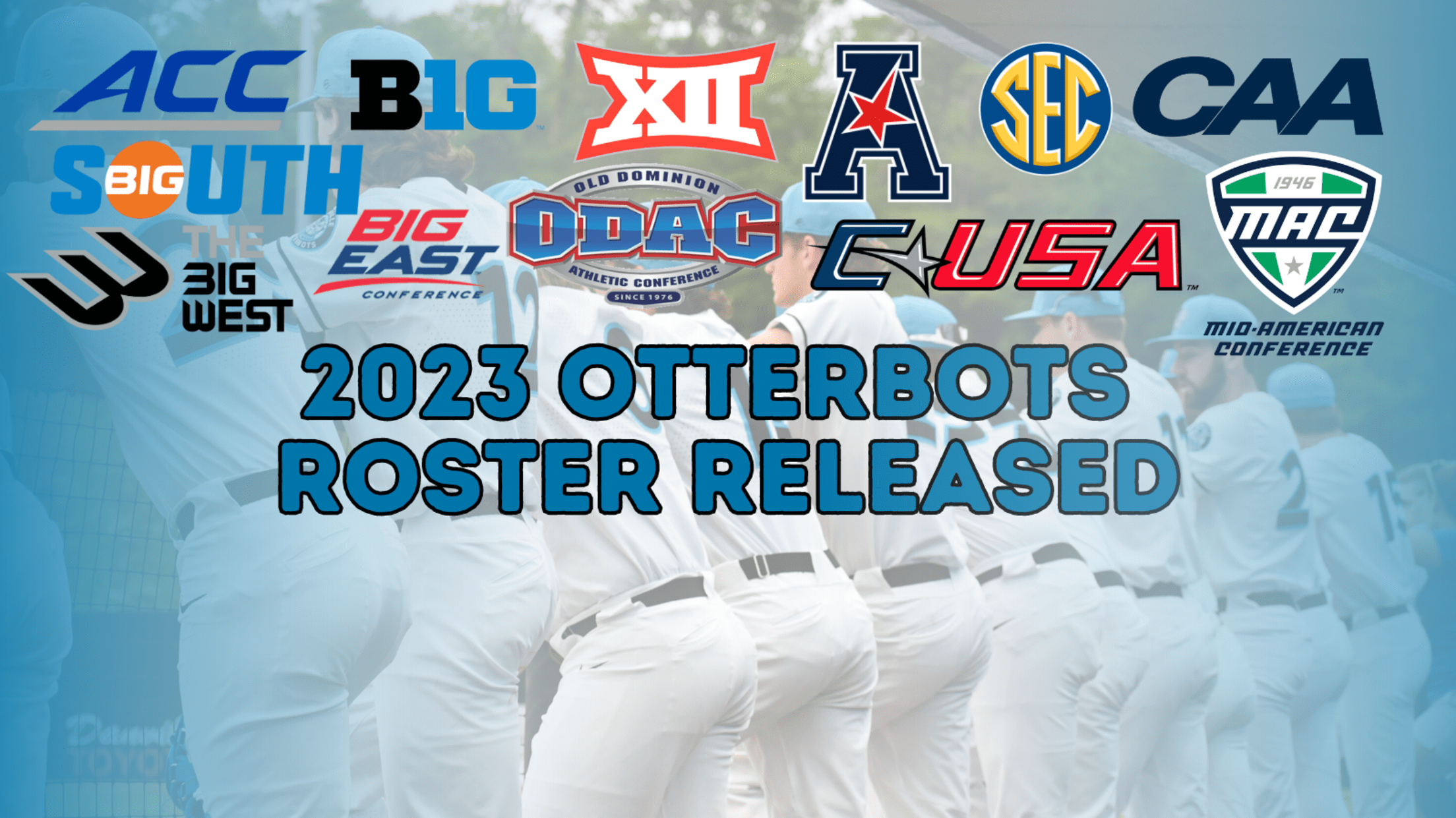 Otterbots, roll out! With Danville hosting Appalachian League Opening Night in just 33 days, the Otterbots are proud to announce the club's 2023 roster. 20 colleges and universities from 15 collegiate athletic conferences are represented, including Virginia Tech and Florida State (ACC), Missouri (SEC), and West Virginia (Big 12). Four
Otterbots, roll out! With Danville hosting Appalachian League Opening Night in just 33 days, the Otterbots are proud to announce the club's 2023 roster. 20 colleges and universities from 15 collegiate athletic conferences are represented, including Virginia Tech and Florida State (ACC), Missouri (SEC), and West Virginia (Big 12). Four members of the 2022 Otterbots are returning for their second season in Danville, and four local products from Danville and Pittsylvania County are set to don their hometown jerseys.
As the Appalachian League, powered by MLB and USA Baseball, continues to develop talent represented across all 30 MLB organizations, the Otterbots are thrilled to welcome talent from across the country this summer. Fans will be able to see players from the ACC, Big 12, SEC, Big East, Big West, AAC, MEAC, ODAC, CAA, Big South, MAC, C-USA, Sun Belt, FCSAA, and NESCAC take the field for the Otterbots in 2023.
Returning from the 2022 roster are former Appalachian League Pitcher of the Week, LHP Andrew Herrmann, RHP Kevin Martin, RHP/IF AJ Zaccareo, and INF Corbin Lanowitz. They will be joined in the clubhouse by 28 new Otterbots, including four home grown players. For the first time in team history, Danville's own Averett University will be represented by RHP Jake Braun, a Sophomore originally from Troutville, VA. Chatham High School will have two stand-outs joining the Otterbots this season, both D1 commits. INF Carrington Aaron, a 5'10", 162lb product originally from Callands, VA will be taking his talent to Virginia Tech this fall. OF Jacob Moore, a 6'1" 203lb product originally from Dry Fork, VA will be heading to Radford. Tunstall High School, alma mater of 2022 MLB All Star Joe Mantiply, will be represented by Raymond Ladd, a 6'6", 235lb RHP also committed to Radford.
A full roster breakdown is provided below:
PITCHERS
Jake Braun, Averett University, RHP. Originally from Troutville, VA, the Averett pitcher boasts a 3.86 ERA in 2023, including a season-high 7-strikeout game against Brevard College.
Ryder Brooks, UC-Irvine, LHP. The 6'2" lefty from Fountain Valley, CA was a top prospect coming out of high school. From a state recognized as a baseball powerhouse, Brooks ranked as the #35 left handed pitcher in California.
John Downing, Seton Hall, LHP. Downing tallied a 24-2 record as a senior in high school, earning him the 2022 Newsday Player of the Year title. The left handed pitcher was ranked #14 coming out of the state of New York.
Glenn Green III, Memphis, RHP. A two-way star in high school, Green went 10-0 with a .81 ERA and 115 Ks in just 53.2 IP as a senior. The Tyrone, GA product was also hailed as the top-ranked 3B in Georgia. This season, he has racked up 22 Ks in just 19.1 IP.
Evan Hart, North Carolina A&T, RHP. The Rocky Mount, NC product joined a talent-heavy Aggies team in 2023, and took a red shirt for the season. His fastball launches out of his hand, having touted velocity coming out of high school.
Andrew Herrmann, College of Central Florida, LHP. Returning from a stellar 2022 season with the Otterbots, the former Appalachian League Pitcher of the Week is excited to be back. The 2022 All-Star snub pitched a 1-run gem against Santa Fe College this spring, allowing just 4 H in 6 IP with 5 Ks on the way to a current 4-1 record.
Elliot Joslin, UC-Irvine, RHP. A towering 6'6", 220lb frame propelled Joslin towards being a highly recruited pitcher out of Fairfax, CA. Joining fellow UC-Irvine pitcher Ryder Brooks in Danville, Joslin has posted a 3.86 ERA in eight outings this spring.
Brandon Jung, Towson, RHP. The Sarasota, FL product has done what few pitchers ever have, as he threw a no-hitter as a senior in high school. In 11.1 IP this spring for Towson, the righty has 14 Ks.
Raymond Ladd, Tunstall HS / Radford, RHP. The Pittsylvania County product has seen significant rise in velocity over the last few seasons, adding 9 MPH to his fastball in high school. His 6'6" 235lb frame makes him an imposing figure on the mound, and has been touted by scouts for his exceptionally high ceiling.
Landen Looper, Miami (OH), RHP. Originally from Frankfurt, Ill, Looper looks to send every batter back to the dugout from the batters box. Two outs of every inning pitched are recorded by strikeout.
Kevin Martin, Florida International, RHP. Affectionally known as K-Mart, Martin returns to Danville for his
second season as an Otterbot. The strong righty has recorded 20 Ks for the Panthers this spring.
Caden Robinson, Memphis, RHP. The Tigers' freshman came out of Ohio as a highly touted recruit. His senior year alone filled a trophy shelf, being recognized as Conference Player of the Year at New Albany High School, and as a 2022 Mizuno All-State selection.
Max Simpson, Towson, RHP. The Bethesda, MD product has been a workhorse for Towson this season. A big body with a strong arm, Simpson has boasted a 36:11 K:BB ratio this spring.
Daniel Wissler, Missouri, LHP. Pitching in the nation's most competitive conference, Wissler has an impressive 21 Ks on the season. The Weldon Spring, MO native stayed home for college, as the #4 LHP and #42 overall prospect in the state of Missouri.
AJ Zaccareo, Amherst (MA), RHP/IF. Zaccareo, returning for his second season in Danville, is the only two-way player on the roster. Starting at 1B for the majority of the second half of the 2022 Otterbots season, the big righty will take the mound for the Otterbots this summer.
Joey Zito, Dover Area HS (PA) / Towson, LHP. The stud lefty Towson commit brings a laundry list of accolades to the Otterbots. His fastball velocity consistently ranks among the highest in the country, currently in the 88% percentile across the nation.
CATCHERS
Tony Castonguay, UNC-Asheville, C. Castonguay returns for his second season in the Appy League, and his first in Danville. He was named to the Academic All-Big 12 Rookie Team as a freshman at Kansas after leaving high school as the #1 catching prospect in Colorado. This spring, he boasts a .355 OBP and a staggering 99.5 fld%. Castonguay batted .287 with 27 RBI in the Appy League last summer.
Luke Lambert, Pittsburgh, C. Another stud catching prospect out of high school, Lambert batted .484 his senior year, including five home runs. The Pittsburgh Panther has a 1.000 fld% behind the dish, and his power at the plate has tremendous upside.
Santiago Ordonez, Florida State, C. The second Florida State catcher in the Danville dugout, Ordonez joins Seminole legend and Otterbots hitting coach Ed Fulton this season. Ordonez was ranked the #5 catcher in the country coming out of high school, was a two-time first-team All-American Catcher, and was a pivotal piece of the 2022 Baseball America Team of the Year.
INFIELDERS
Carrington Aaron, Chatham HS / Virginia Tech, IF. The local product and Virginia Tech commit brings phenomenal defensive flexibility and high plate discipline to the Otterbots. From Chatham to Danville to Blacksburg, Aaron is sure to make his mark on the history of baseball in Virginia.
Blake Barthol, Coastal Carolina, IF. A stalwart for the Chanticleers this season, Barthol has four home runs and 20 RBIs to go along with his .300 average. He batted .588 his senior year of high school, which pales in comparison to his current 1.001 OPS. The Dean's List student brings a plethora of skills to the field and the clubhouse.
Preston Crowl, Franklin Co HS (VA) / Radford, IF. The Radford commit has upside written all over his scouting report. His IF velocity has touched 90 MPH, and his bat speed has produced exit velo of 96 MPH. The Wirtz, VA native is another commonwealth representative coming to the Otterbots this year.
Tanner Holliman, Elon, IF. A big bat and staple of the Elon lineup, Holliman has a staggering 10 home runs and 28 RBI this season. His .434 slugging percentage and .748 OPS this season are among the top at Elon, where he transferred after hitting 29 home runs in two seasons at Northern Oklahoma.
Corbin Lanowitz, UNC-Asheville, IF. A returner for his second season in Danville, Lanowitz started games at
all four infield positions last summer. He has had an absolutely massive spring for the Bulldogs, currently
slashing .305/.383/.344.
Dean Mihos, Coastal Carolina, IF. Joining fellow Chanticleer Blake Barthol in the Otterbots infield, Mihos ranks as the #11 Impact Freshman in the Sun Belt Conference. The 2022 PIAA All-Area Selection and Mercury All-Area Player of the Year was rated as the #3 SS and #16 overall player in the state of Pennsylvania.
Callan Moss, Seton Hall, IF. Returning to the Appy League for his second season, first in Danville, the high-upside power in Moss's bat was on display last summer. He mashed three home runs and drove in 32 runs on his way to an .814 OPS, and has the power to send a ball deep into the Dan Daniel Memorial Park forest. A well rounded ballplayer, Moss also boasts a 1.000 fld%.
OUTFIELDERS
Tre Keels, West Virginia, OF. Keels, originally from Portsmouth, VA, was an MLB prospect coming straight out of high school. He played at the 2020 Perfect Game Underclass All-American Games, was a 2021 Rawlings Preseason Underclass All-American First Teamer, and was a top 65 overall prospect in the country. The Mountaineer brings his Big 12 experience to Danville this summer.
Jacob Moore, Chatham HS / Radford, OF. The Dry Fork, VA native is another local product committed to bring his talents to Radford in the fall. His arm out of the outfield is highly touted, with velocities approaching 90 MPH. His bat speed and plate discipline has led to exit velocities well into the 90s as well. Moore will be joining high school rival and Otterbots teammate Raymond Ladd at Radford next season.
Jordan Taylor, Florida State, OF. Taylor, joining FSU teammate Santiago Ordonez in Danville, is rated as the #83 MLB Draft prospect by MLB.com and The Athletic. He was an All-State selection as a junior and senior in high school on his way to becoming the #14 nationally ranked outfielder in his class. His five tool upside has scouts drooling.
Jackson Tyer, Delaware, OF. A two time All-Conference and one-time All-State selection out of Delaware
Military Academy, Tyer led DMA to a 20-3 record and state title in 2021. A career .404 hitter in high school,
the current Blue Hen averages a home run in ever 20 plate appearances, and is currently batting .238.
Evan Wallace, UC-Irvine, OF. The 2022 Fresno Bee Player of the Year, Wallace joins two UC-Irvine teammates in Danville this summer. Ranked the #24 OF prospect in California, Wallace has game-breaker potential. In just one game this spring, Wallace collected two doubles, four total bases, and three RBI.
Single game tickets, season tickets, group outings, and limited corporate partnership opportunities are currently available for the 2023 season. For more information, email [email protected] or call the front office at 434-554-4487. Appalachian League Opening Night will be hosted in Danville, as the Burlington Sock Puppets visit the Otterbots on Tuesday, June 6th.