Appalachian League announces 2023 data coordinators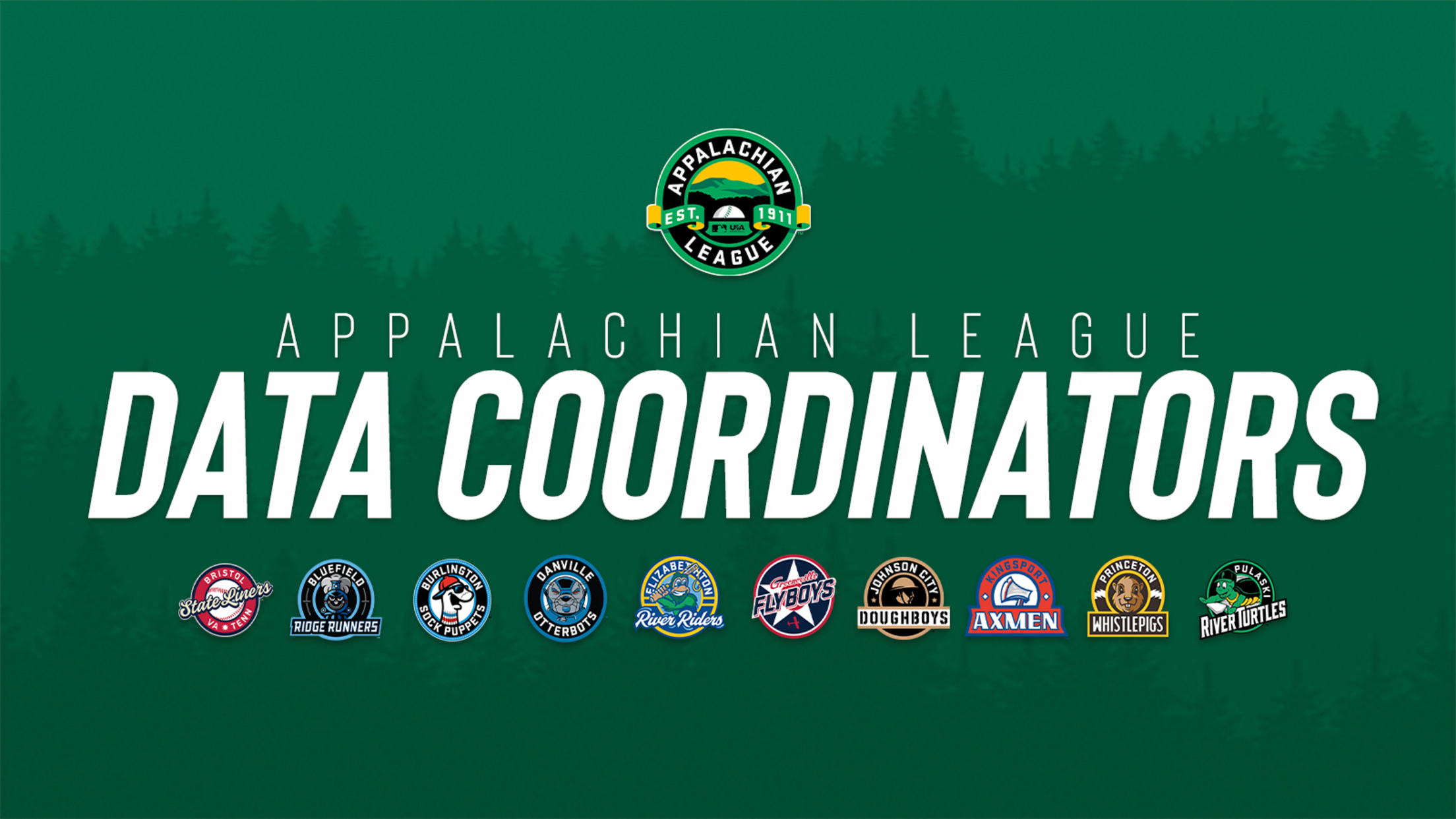 CHAPEL HILL, N.C. — The Appalachian League announced the data coordinators for each team for the 2023 season, including two returners to the league and eight newcomers. "The Appalachian League is very proud of our state-of-the-art technology and extremely pleased to add such a great group of data coordinators for
CHAPEL HILL, N.C. — The Appalachian League announced the data coordinators for each team for the 2023 season, including two returners to the league and eight newcomers.
"The Appalachian League is very proud of our state-of-the-art technology and extremely pleased to add such a great group of data coordinators for our 2023 season. The addition of this group sets us apart from all other summer leagues and helps boost us well on our way to being the best collegiate summer baseball league in the country," Appalachian League executive director Brian Graham said.
Each Appalachian League data coordinator serves as a technology liaison for their respective team, tasked with managing in-game video operations and the technology needed for data capture. They are responsible for verifying the accuracy of the data while working closely with the Appy League's tech partners to identify and troubleshoot issues. Most importantly, each data coordinator is vital in distributing information to players, coaches and scouts.
Here are this year's data coordinators for each Appalachian League team:
Jack Harmon, Bluefield Ridge Runners
Harmon joins the Ridge Runners after spending last summer as a baseball scouting, operations and marketing intern with Prep Baseball Report in Chicago. Harmon, an integrated marketing and communications major with a minor in business, recently graduated from the University of Mississippi.
"I am beyond excited for the opportunity to work in the Appalachian League this summer and to continue my baseball journey after graduation! The Appalachian League is full of amazing talent, from the players to the managers and coaches with extensive professional and collegiate experience. I'm honored to be a part of this great league and look forward to working with the Bluefield Ridge Runners coaches and players on the data/technology side this summer." ~ Jack Harmon
Lance Reynolds, Bristol State Liners
Returning as the State Liners' data coordinator for a second straight year, Reynolds is a baseball data analytics intern and TrackMan operator at Texas A&M, where he is pursuing a master's degree in data science after graduating with his bachelor's in industrial and systems engineering.
"I'm thrilled to be a part of the Appy League for my second year. My experience with the State Liners and the city of Bristol last summer was one I'll never forget, and I can't wait to make new memories and grow my skills even further." ~ Lance Reynolds
Tristan Saglime, Burlington Sock Puppets
Saglime, the lead student manager for the Abilene Christian University Baseball team, is joining the 2022 Appy League runner-up Sock Puppets. Saglime oversaw day-to-day operations within the Wildcats' program in his previous role. Entering his junior year, Saglime is studying information systems with a focus on management sciences.
"I am super excited to get involved with the Appalachian League this summer, not only from a professional development experience, but as well as getting outside of my comfort zone in a different state and interacting with a bunch of different players, coaching staffs, and more. I am also excited to grow my knowledge of the game of baseball more as well. I can't wait to get started this summer!" ~ Tristan Saglime
Savannah Dennis, Danville Otterbots
Dennis previously worked with the Frederick Keys in the MLB Draft League as a player personnel and scout liaison. At the University of Iowa, Dennis has served as the video and scouting manager for the Hawkeyes' baseball team. She is studying statistics with minors in sports & recreation management and Spanish.
"After an incredible summer with the Frederick Keys and the MLB Draft League last year, I can't wait to join the Appy League as a data coordinator. The hands-on experience the leagues offer is a great way to get comfortable in the industry and one that has helped me grow so much. I'm looking forward to another baseball-filled summer!" ~ Savannah Dennis
Cayden Garcia, Elizabethton River Riders
Garcia joins the River Riders after serving as an assistant recruiting coordinator and head of player development at St. Mary's University during the 2023 NCAA season. A computer science major, he played two seasons for St. Mary's before transitioning to his current position.
"I strongly believe that baseball and computer science have a strong relationship, and I look forward to the opportunity to learn, grow and put these practices into work daily. I am excited and looking forward to working alongside the Elizabethton River Riders this summer." ~ Cayden Garcia
Andy Goodridge, Greenville Flyboys
Goodridge enters his second season with the Appalachian League as the data and technology coordinator for the Greenville Flyboys after holding the same role with the Pulaski River Turtles in 2022. A sport and fitness administration/management major at Roanoke College, Goodridge also acted as a student manager for the Maroons baseball team.
"I am excited to return to the Appy League for a second season. Last summer I made great connections and am looking forward to more opportunities to grow this season. I can't wait to help more players become their best." ~ Andy Goodridge
Celeste Casillas, Johnson City Doughboys
Casillas, who recently finished the NCAA softball season as a utility player for Florida Institute of Technology, joins the Doughboys. She is studying sports management at FIT after graduating from the College of San Mateo with her associate's degree.
"I'm super excited to get on up to Tennessee to meet and work with a ton of new people. I've played softball my whole life and always loved going to the field. Now, I'm getting a chance to continue my career in sports through a different path and I get to stay close to the game I've grown to love. I'm beyond grateful for this opportunity. Go Doughboys!" ~ Celeste Casillas
Tyler DeJong, Kingsport Axmen
DeJong is joining the 2022 Appy League champion Axmen after serving as a student manager for the North Carolina State University baseball team. DeJong is studying sports management with a minor in business administration and leadership: cross-disciplinary perspective. During the 2022 season, he was a stadium operations trainee with the Carolina Mudcats, the Milwaukee Brewers' Single-A affiliate.
"I am so excited to be a part of the Appalachian League this summer with the Kingsport Axmen. I am excited to learn from the professionals in the business and grow my knowledge of the game." ~ Tyler DeJong
Brady Giacopelli, Princeton WhistlePigs
Giacopelli, who finished his first year as a data analyst for the University of Missouri baseball team, is joining the WhistlePigs. At Missouri, Giacopelli is studying statistics.
"I am beyond excited to show my talent and skills within the Appy League, I hope to make a difference within my team and the entire league as I put forth my best efforts this summer!" ~ Brady Giacopelli
Austin Padgett, Pulaski River Turtles
Padgett, a senior pitcher and captain for the William Peace University baseball team, spent last summer as a baseball analytics supervisor in the Coastal Plain League, overseeing Trackman and Synergy operations at Ting Stadium in Holly Springs, North Carolina. At William Peace, he is currently pursuing a bachelor's in exercise & sport science after earning a bachelor's degree in business administration.
"I'm excited to get after it and take the next step towards my dream of working in professional baseball! The Appy League is a special environment I cannot wait to be a part of. Go River Turtles!" ~ Austin Padgett