Elizabethton River Riders announce 2023 coaching staff
Manager Jeremy Owens returns with John Chalupa, Andy Tomberlin and Kody Eckert to the lineup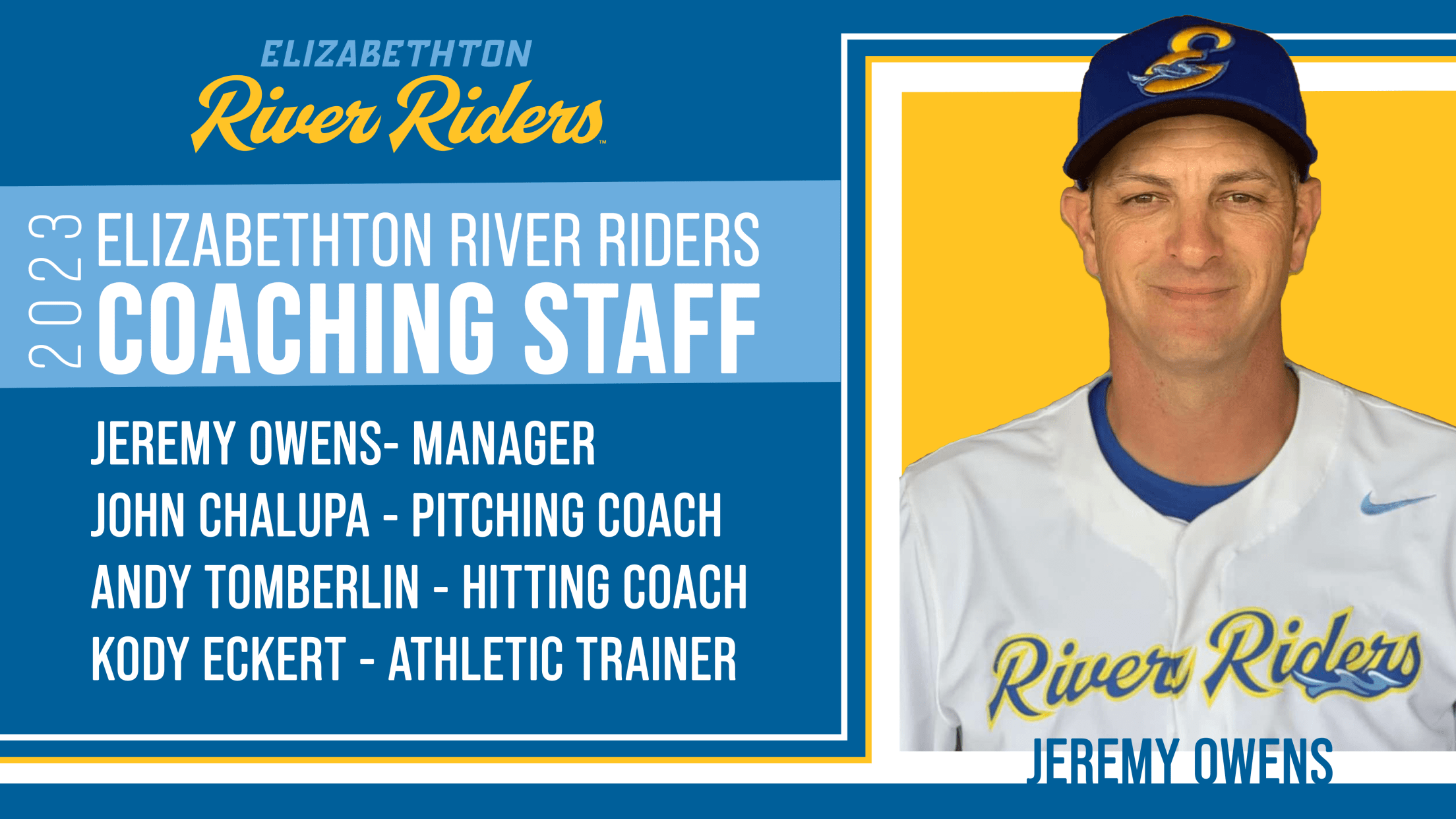 ELIZABETHTON, Tenn. - The River Riders announce their 2023 coaching staff joining manager Jeremy Owens this season in Elizabethton. Leading the team this season includes hitting coach Andy Tomberlin, pitching coach John Chalupa and athletic trainer Kody Eckert. "The River Riders are fortunate to have returning hitting and pitching coaches
ELIZABETHTON, Tenn. - The River Riders announce their 2023 coaching staff joining manager Jeremy Owens this season in Elizabethton. Leading the team this season includes hitting coach Andy Tomberlin, pitching coach John Chalupa and athletic trainer Kody Eckert.
"The River Riders are fortunate to have returning hitting and pitching coaches Andy Tomberlin and John Chalupa," said River Riders manager Jeremy Owens. "Their knowledge, work ethic and experience in baseball will give the River Riders a championship-caliber staff to compete over the summer."
Chalupa is currently the pitching coach for the UVA Wise Cavaliers with a background in collegiate baseball. While pitching at Odessa College, Chalupa finished an associate's degree in Sports Medicine. After transferring to Fairleigh Dickinson University, he graduated with a bachelor's in science and biology while he continued his baseball career for the Knights. After schooling, his college coaching career started at Lake Erie College under Ray Skjold and Gary Vaught.
Tomberlin has spent 32 years total in professional baseball, including 15 years spent as a player. He played in the Atlanta Braves system as a pitcher from 1985-87 before converting to position playing. He played for five different Major League clubs in Pittsburgh, Boston, Oakland, New York (NL) and Detroit over six years. Following 2001-02, he worked in the scouting department for the Milwaukee Brewers and as hitting coach for the California League Class A High Desert Mavericks. From 2003-18, he was the hitting coach for the Chicago White Sox's Class A, AA and AAA levels. He also coached the German National Team under Martin Helmig in 2018.
Eckert spent two years earning his master's degree in athletic training at Sterling College in Sterling, Kan. He covered football, volleyball, soccer, women's basketball, swimming and baseball during his time with the Warriors. Eckert completed a Master of Science in Athletic Training from Sterling in May 2021. He graduated from Kansas State with a bachelor's degree in Kinesiology in 2018. He is a member of the National Athletic Trainers Association.
"I am thrilled to be working with such an experienced coaching staff," said River Riders general manager Kiva Fuller. "I look forward to seeing this year's River Riders team develop and grow this summer. With the return of the same coaching staff, the River Riders team is certainly in a great position to compete this summer."
The River Riders debut this season June 6 against the Kingsport Axmen. For more information on the team, go to elizabethtonriverriders.com or call the office at (423)547-6443.